Welcome to WonderWorx
WonderWorx LLC of Carbondale, Colorado, invents products for musical, educational, and sensory play. These unique pieces are designed for parks, gardens, schools, hospitals, therapy facilities, and museums. These imaginative creations combine splashes of sound, color, music, or motion to stimulate the senses and encourage social, cooperative interaction.
By merging science, sophisticated design, and creative learning, WonderWorx products deliver delight. And, they can be used and enjoyed by adults, as well as children, for a fun and sensory-rich experience. Utilized as therapeutic devices, many unique benefits are unleashed when addressing autism, sensory processing disorders, and other childhood neurological disorders.
Born from the notion that classic playground standards like the seesaw and the swing only made sounds of rusty metal on metal, we asked, "What if the squeaks and grinds were replaced with music or other pleasing sounds? And not just any music or sound but ones created or composed by the operators?"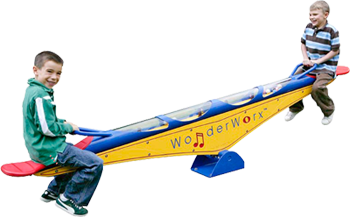 And then we wondered, "What if kids could learn about music or science while being engaged in a fun, creative, and dynamic play experience? And what if children with social and developmental challenges could also benefit from this interactive and multisensory activity?"
These are the core concepts that inspire WonderWorx inventions. They are designed by artists and craftsmen, engineered to ASTM standards and CPSC guidelines, and manufactured in the US to demanding specifications. These products represent an approach to play, learning, and therapy that is being embraced by discerning customers from around the globe.
Contact us to ask about implementing these sensory and therapeutic play pieces into your school or facility.