Terms of Sale
Pricing
Prices shown on the product pages do not include freight or any delivery / handling charges. Prices are subject to change without notice and firm upon receipt of deposit.
Freight
Actual freight charges are prepaid and applied to the balance due. Most products are delivered on large pallets and will require a forklift or similar equipment to unload. Smaller products can be unpacked in the truck and off-loaded by hand. Please inquire as to the logistics for your order.
Terms
50% deposit at time of order - balance, including freight, is due when products are ready to ship. Net 30 to tax-supported institutions and accounts in good standing with established credit.
Taxes
Prices shown on the product pages do not include applicable taxes, if any.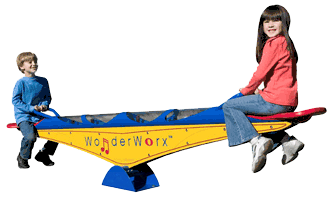 Warranty
WonderWorx, LLC warrants that all products will be free of materials' and workmanship defects for one year from the date of invoice. This warranty does not extend to cosmetic matters such as, but not limited to, discoloring, weathering, wear and tear from normal use or vandalism. This warranty assumes that proper installation of the product has been accomplished by the customer. WonderWorx, LLC will promptly repair or replace all parts of its product found to be defective as outlined herein.